Share this URL: https://sukasukasundaysapril.peatix.com/
Event is FINISHED
Suka Suka Sunday - FREE EVENT! (Tickets for pre-order menu)

PAST EVENTS

CLICK TO CHECK OUT OUR PAST JERK BBQ's
Our Jerk Cookout and Reggae street parties are family friendly and pet friendly (outdoor area). Reggae themed colouring contests and a "Kids Zone" room with movies and supervision will be running on the day of our event.

SHARE EVENT > bit.ly/sukasukasundayapril
FB EVENT PAGE
- - -

LIVE ACTS


Denny Frust - Police & Thieves



DENNY FRUST

has one of the most soulful voices you will ever hear. Having built a phenomenal fan base in Indonesia as the former lead singer for Ska outfit "Monkey Boots", Denny Frust moved on to a solo career, exploring Rocksteady and Reggae music. His signature soulful voice is unmistakable, gaining the attention of his own heroes Johnny Osbourne, Richie Stephens and even Ken Booth who remarked "I can't believe this voice is coming out of the skinny boy!" More than just an artist, Denny Frust is a community leader - bringing together people through fund raisers and events and even at his Reggae Bar Equal Park, in Jakarta.

IG @DennyFrust24 | FB Denny Frust



Masia One & Richie Stephens - Jamaican Flava

MASIA ONE, named the Queen of South East Asian hiphop & reggae, she has worked with hip-hop legend Dr Dre, Pharrell Williams, The Game, RZA (Wu Tang Clan) and John Frusciante (Red Hot Chilli Peppers) and is the first female to be nominated for an MTV Canadian award in the category of "Best Rap Video". Her hit 'Warriors Tongue' was sampled by iconic American DJ and producer Bass Nectar for the title track of the movie Fast and Furious 8. She aspires continue make Singapore a hub bringing Asian ragga and dancehall flavours to the rest of the world as the creative director of Singapura Dub Club.

IG @MasiaOne | FB Masia One #MAS1A | Website masiaone.com

SELECTAS


DJs Justo, ALX and Eden playing Reggae, Ska, Dancehall, Good vibes Hiphop and Afrobeats.
Check out our SUKA SUKA MIXTAPE series to get yourself in the mood for this Suka Suka Sunday!
- - -

JAMAICAN JERK BBQ


WHAT IS JERK?
Jerk is a Jamaican way of cooking with fragrant herbs and spicey elements using the key ingredients of pimento (smokey flavour) and Scotch Bonnet (Caribbean chilli padi) to marinade food. Jerk can be used on many things like meats (chicken, pork, beef, sausages), seafood (fish, shellfish), vegetables (eggplant, jackfruit burger, zucchini) and even added as a condiment to create dishes like "rasta pasta". The most popular use of Jerk is with "Jerk Chicken", a street food known all around the world from London to New York. Cooked in Oil Barrel grills known as "Jerk Pans", the flavour is smoked into the food and served with rice & peas or vegetables for a hearty and flavourful meal.

SUKA SUKA STORY
As a Singaporean native, travelling to Jamaica I fell in love with a simpler way of life; spending days on white sand beaches with the delicious smells of savoury Jerk chicken grilling in the air. In this jar, the smokey Pimento, spicy Scotch Bonnet and signature Caribbean herbs and spices are home grown right here in Southeast Asia, to give this Jerk marinade its one of a kind flavour! With these unforgettable island vibes for the world to share ... I present to you Asia's first authentic, all natural Jerk marinade: Suka Suka Sauce! Bringing West and East together, our mission is simple: To share One Love, One Jerk meal at a time.
- Masia One


Suka Suka Sauce is...
100% natural, no preservatives, low sodium.
Grown and developed locally r ight here in Southeast Asia.
More than a sauce, it's a culture. We hope that #SukaSukaSauce can grow as a way to support Reggae musicians in SE Asia to tour and share their music with a larger internationanl audience.
Instagram @SukaSukaSauce
Facebook #SukaSukaSauce
- - -

VENUE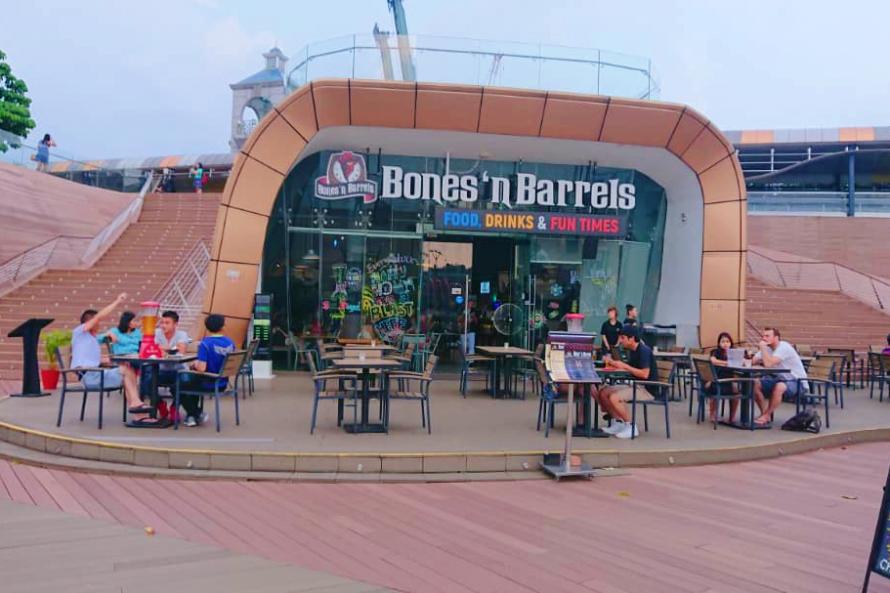 read more
Updates
The event description was updated. Diff#428356

2019-04-22 07:13:28
More updates
Apr 28
-
Apr 29, 2019
[ Sun ] - [ Mon ]
5:00 PM
-
12:00 AM
SGT
Add to Calendar
Venue

Bones n' Barrels Sentosa
Tickets

Combo (1 piece jerk chicken + 1 side)

SOLD OUT

$20.00

Vegan (1 plate of grilled veggies + 1 side)

SOLD OUT

$20.00

Suka Suka Sauce 250ml take home jar (Pre-order discount)

SOLD OUT

$10.00
Venue Address

6 Sentosa Gateway, Singapore 098072

Singapore
Organizer
Attendees
5
Want to find more groups and events like this?